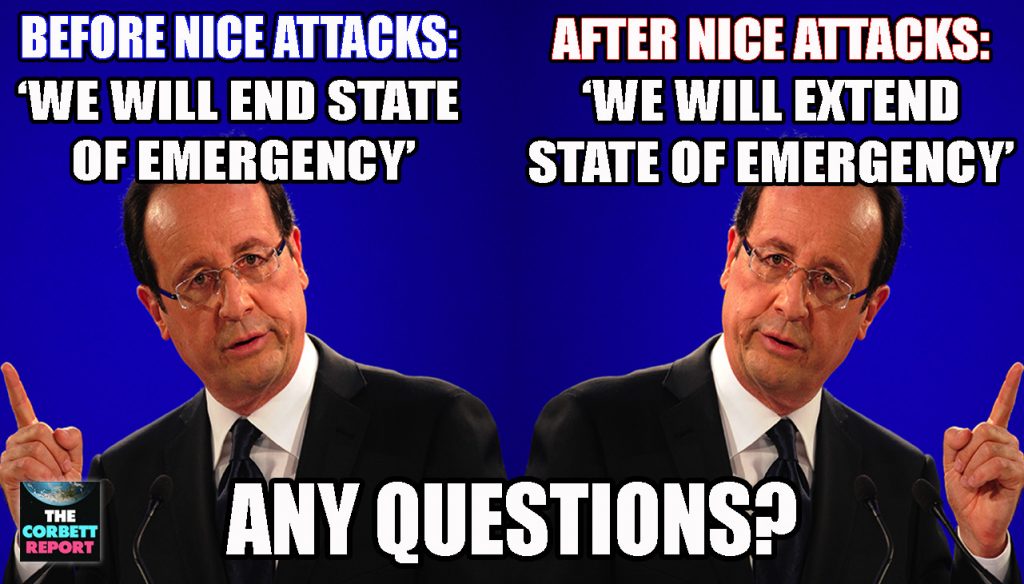 by The Corbett Report community
July 16, 2016
I thought I'd use the slow news days of the mid-summer doldrums to take a weekend off writing the newsletter. "What could possibly happen on a weekend in July?" I thought. Boy did I time that one wrong.
First we had the Nice attack on Thursday night. The body count continues to climb, with 84 now confirmed dead and others still in critical condition. Meanwhile, France has entered three days of mourning (or is that Hollande's three days of celebration for the extension of the state of emergency?) even as the official story has yet to settle on whether this was the work of an ISIS operative or a non-religious petty thug who liked to drink alcohol, eat pork and take drugs.
But then just when it seemed this weekend's headlines were going to be dominated by the events in Nice, elements of the Turkish military had to go and attempt a coup to oust Erdogan. Now this won't be a surprise to Corbett Reporteers; I wrote a newsletter editorial about the possibility of a Turkish coup last December and interviewed Sibel Edmonds about it shortly thereafter. But still, the dramatic events in Ankara are going to have repercussions throughout the entire region in the days and weeks ahead.
And in case you missed it (which you probably did), guess what was quietly released while all of this commotion was happening? The 28 pages! Yes, after much ballyhoo in the corporate media by the likes of 9/11 suspect Bob Graham and others, that limited hangout distraction was finally released to the public. Now we can all say: "Look, there was a 9/11 conspiracy, and the Saudis were behind it!" But I allow my cynicism to get ahead of me. Read the 28 pages for yourself and tell me what you think: Is this a limited hangout with no real new info? Or is this like the Chilcot report, a situation where we should be happy for what we have rather than angry about what we don't?
Yes, there is an awful lot to parse through this weekend. So, dear subscribers, let me know your own thoughts in the comments below. What's on your mind today?
Filed in: Articles