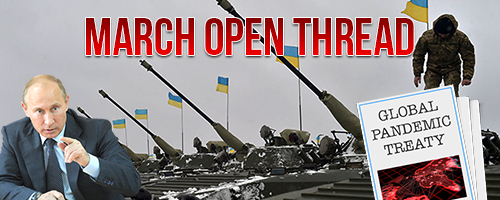 It's March and spring has almost sprung in the Northern hemisphere, so you know what that means: it's time for a new open thread!
Are you looking to discuss the most recent Sunday Flashback video on NATO and Anti-NATO: Two Sides of the Same Coin?
Do you want to opine on the collapse of the scamdemic and the attempt by the worst COVID cultists to laugh off the last two years and pretend it never happened (as depicted in this SNL skit and this reaction)? Or the specter of the global pandemic treaty that they are starting to hammer out now to push the COVID narrative through to its pre-scripted end.
Or perhaps you're interested in debating and documenting the latest moves toward the construction of the transhuman "solution" to our biosecurity nightmare.
Or maybe you're just jonesing for a Just For Laughs in the absence of the regular newsletter (in which case, here you go).
Oh, and I guess there's some kind of "military operation" going on somewhere near Russia right now (just DON'T CALL IT A WAR!)
Whatever the case, Corbett Report members are invited to log in and engage in discussion in the comments below.
Not a Corbett Report member yet? Sign up today and join the conversation.
Filed in: Articles
Comments (279)
Trackback URL | Comments RSS Feed