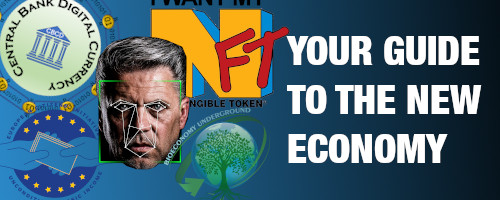 Congratulations! You've spent the last 14 years or so since the Global Financial Crisis getting up to speed on all the financial lingo, and now you can finally wrap your mind around the reality inversion bubble and explain the intricacies of the ratings game and bore people at cocktail parties with a detailed account of how HFTs are ruining the markets.
Good work!
. . . But guess what? That's all outdated!
As I pointed out last week, we are entering into a Brave New Neofeudal Net Zero Economy, and all the verities of the old economic order are being thrown out the window. Make no mistake: they don't call it a "New World Order" for nothing and they aren't kidding around when they call for a "Great Reset."
Yes, the world is changing fast in this decade of transformation, and now there's a bewildering new array of acronyms and asset classes to learn about. So buckle up and get ready for a crash course in the new (slave) economy.
In this week's edition of The Corbett Report Subscriber, James takes you on a whirlwind tour of the new (neofeudal) economy. Afterward, stick around for recommended reading, listening and viewing and get access to the coupon code for 25% off Corbett Report DVDs at the new New World Next Week shop.
To access the full newsletter and to support this website, please become a member today.
For free access to this editorial, please CLICK HERE.
This content is restricted to site members. If you are an existing user, please log in. New users may register here.
Filed in: Newsletter
Tagged with: economy • finance • ubi