It's another busy weekend of news and information, so it's time for another weekend open thread.
The Syrian truce is in tatters and Moscow is openly accusing Washington of trying to scuttle the peace before it even starts as the US admits to bombing the Syrian army in the eastern city of Deir ez-Zor, thereby protecting ISIS...by "accident," of course. But don't worry about the emergency UN Security Council meeting this prompted or the fact that Russian forces very narrowly missed running directly into US forces in their uncoordinated strikes. After all, what difference does WWIII make when there's a pressure cooker bomb in NYC to freak out about?
Meanwhile, there's breaking news from the Colin Powell DCLeaks emails: Can you believe that Israel has "200 nukes"? Powell admitted it himself in an email.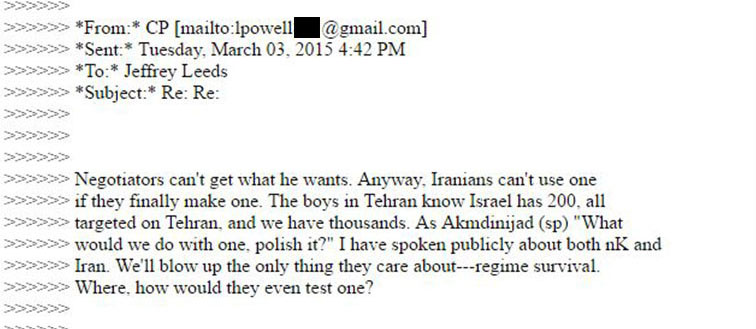 Well, actually the only thing that's worth questioning here is whether he means 200 altogether (surely a lowball) or only 200 "targeted on Tehran." But since there may be two or three people in the world for whom this is shocking news, catch up with the world's worst kept secret here...But don't expect Israel to be signing up to that NPT (like Iran has) any time soon.
But these are just some of the tidbits floating across the newswires right now. What's on your mind today? Corbett Report members are encouraged to log in and use this space to comment, question, post information and interact. Have at it, friends.
Filed in: Articles
Tagged with: open thread