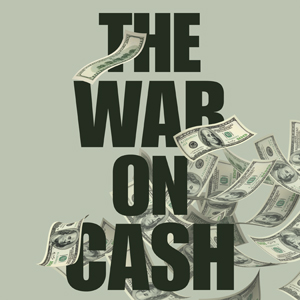 by James Corbett
corbettreport.com
January 27, 2016
Corbett Reporteers will be no stranger to the war on cash. I've made videos discussing it, conducted interviews about it, written articles examining it and dissected it on the radio.
The war has been waged through mainstream propaganda outlets, TV advertisements and even children's games.
We've heard cash is dirtied by drug dealing, tarnished by terrorism, tainted by tax evasion (heaven forbid!) and just plain dirty. Not to mention sooooo outdated.
Just this week Norway has jumped aboard the cashless society agenda with DNB, the country's largest bank, calling for a total end to cash. The story only sounds shocking only to people who haven't heard the similar stories from Sweden or Denmark or India or Israel or any of the dozens of other countries whose banksters and (bankster-controlled) governments have openly lusted after a world of completely trackable, completely bank-controlled transactions.
But all of these stories, reported piecemeal here and there over the years, don't give the full story about how this "war on cash" is being waged on every continent and in every country by the same banksters that stand to benefit from a cashless world. Let's fix that by compiling a list of examples from around the world of how cash payments are being regulated, restricted and phased out. The list below will be updated as new stories come in.
If you have a link to relevant news from your own country or know of such news from another country, please let us know. Corbett Report members are invited to contribute to the list by logging in and leaving links to the relevant info in the comments below.
The Cashless Society List
ARGENTINA - Argentina's currency crisis has been known for some time. In short, Argentinians don't trust the peso and are willing to pay premium for any currency they perceive as "more stable," especially US dollars which are traded on the black market as "blue dollars" at prices far exceeding the official exchange rate. That's why Argentina has been tipped for some time as a country that is likely to go cashless sooner than later, with a 2014 report from the Bitcoin Market Opportunity Index ranking Argentina as the most likely jurisdiction to replace sovereign currency with bitcoin. Argentinians have reason to be wary about this New Monetary Order, however; in a move described as "an eerie glimpse of what a cashless society enables" the Argentinian government mandated that banks report every credit card purchase made in the country directly to the tax authorities and added a 15 percent tax surcharge every time a purchase is made outside the country using a credit card issued by an Argentine bank.
AUSTRALIA - Late last year the Westpac banking group issued a "Cash Free Report" touting the highly self-serving finding that "Over half (53 per cent) of payments currently made in Australia are cashless" (using Westpac online banking services like their cardless ATMs, no doubt). The report goes on to predict that Australia will be cash free by 2022. Meanwhile, the government is readying a cashless welfare system that will allow the government to control what the money is spent on. What could possibly go wrong?
BELGIUM - In 2014 the Belgian government passed new restrictions on cash payments: cash can no longer be used to pay for real estate, and there is a 3000 euro limit on cash payments for other assets (unless purchase second hand).
CANADA - In 2007 the Canadian government stopped allowing payment of taxes in cash at government service centers. In 2010 Passport Canada followed suit. In 2011 56% of Canadians polled said they were happy to live in a bankster-controlled cashless society so the country killed the penny in 2012 and the Royal Canadian Mint started pimping the "MintChip" as a new form of electronic payment that will be "better than cash." The Mint ended the program in 2014 but the Great White North is still on track to be a cashless society in the coming years.
CHINA - The People's Bank of China, citing the need to "reduce costs, curb crimes and money laundry, facilitate transactions and boost central bank's control on money supply and circulation" set up a research team in 2014 "to study application scenarios for digital currency and strive for an early rollout."
DENMARK - In the 1990s about 80% of Danish retail purchases were made with cash, but these days it's more like 25%. But if the Danish government has its way, that number will be 0% by 2030. That's the year the Danish government has set for the complete elimination of paper money in Denmark.
ECUADOR - Last year Ecuador became the first government to launch a digital currency completely administered and controlled by a central bank. Called the Dinero Electronico, the currency can be purchased with cash, stored in electronic wallets on a phone, and can be exchanged by text message.
EU - The head of the EU Anti-Fraud Office Giovanni Kessler, came out earlier this year to call for abolishing the 500 euro note because they "can make the life of fraudsters much easier." He also noted that a more widespread adoption of electronic payment systems would be better for his office because "Traceability is paramount in fighting corruption and fraud."
FRANCE - In the wake of the Charlie Hebdo attacks last year, the French government stepped up its war on cash. In March of last year, French Finance Minister Michel Sapin declared it necessary to "fight against the use of cash and anonymity in the French economy" in order to combat "low-cost terrorism." As of September 2015 it is illegal for French citizens to make purchases exceeding 1000 euros in cash.
GERMANY - In a rather abrupt turnaround from a 2014 Bundesbank paper on "The Irreplaceability of Cash," the German Finance Ministry (perhaps egged on by the country's leading Keynesian economist) is looking into a 5000 euro cap on all cash payments. And although Germany is still a cash-based society, things are changing; a 2014 survey found that 34% of the population makes purchases electronically already and 20% can envision making all their purchases via smartphone payment systems in the future.
HONG KONG - When it launched in 1997, the Hong Kong Mass Transit Railway's Octopus Card was just the second contactless smart card system in the world (after South Korea's UPass). Although originally used to pay for journeys on public transit, it can now be used at convenience stores, vending machines, supermarkets, photo booths and other retail outlets. In 2004 all metered parking spaces in Hong Kong were converted to cashless meters that required Octopus Cards for payment.
INDIA - India is one of the most cash-dependent economies in the world with a cash-to-GDP ratio of 12%, almost four times that of fellow BRICS nations Brazil and South Africa.  But it won't be for long if the Indian government has its way. Last June the Indian Ministry of Finance posted a draft proposal to its website for facilitating the rise of cashless payments in the country. In his 2015 budget speech the Finance Minister declared: "One way to curb the flow of black money is to discourage transactions in cash. Now that a majority of Indians has or can have, a RUPAY debit card. I therefore, proposes to introduce soon several measure that will incentivize credit or debit card transactions and disincentivize cash transaction."
IRELAND - A 2013 paper from the Central Bank of Ireland lamented Ireland's slow adoption of electronic payments and over-reliance on cheques, noting "Ireland could save up to €1bn per year by migrating to more efficient [i.e. electronic] payment instruments." Later that year, the Central Bank launched a National Payments plan to help facilitate the transition and kicked off a €1m national marketing campaign to encourage the migration to electronic payments. The scale of the campaign surprised many, with the Irish Independent pointing out that "It's a major advertising spend in the current climate, where a big-promotion budget spend is considered to be in the region of €500,000 outside of the big global blue-chips." Late last year the Cork City Centre Forum attempted to take the lead in the cashless transition by launching the "Cork Cash Out" campaign aiming "to encourage consumers to ween off cash and opt-in for electronic-only transactions instead."
ISRAEL - In 2014 a special committee headed by Israeli Prime Minister Benjamin Netanyahu's Chief of Staff Harel Locker released a report examining how to reduce the use of cash in the country. The report advocates reforms (including restrictions and limits on cash transactions) as part of a strategy whose aim is "reduced use of cash, reduced use of endorsed checks, and increased use of electronic means of payment."
ITALY - In 2011 newly appointed Italian Prime Minister Mario Monti made cash payments over 1000 euro illegal. "What we need is a revolution in Italians' thinking" Monti told reporters as he announced the emergency decree which was put into law before it was even formally voted on in parliament.
KENYA - Last year the Kenyan government awarded a contract to MasterCard to administer a smart card that can be used to pay for government services and receive welfare payments. Anne Waiguru of the Ministry of Devolution and Planning explained: "Uwezo Fund beneficiaries, Youth and Women Funds disbursements, National Youth Service, Social welfare government cash transfers to families, government food subsidies, hunger safety net cash transfers and cash transfers to orphaned children will be disbursed through the cards," neglecting to add that the card also gives MasterCard access to the biometric details of 170 million potential customers.
MEXICO - In 2013 the Mexican government banned cash payments of more than 500,000 pesos for real estate and more than 200,000 pesos for cars, jewelry or lottery tickets.
NETHERLANDS - In 2013 the mayors of Almere, Rotterdam and Maastricht engaged in a publicity stunt to promote a campaign encouraging the public to abandon cash. They spent a week without spending any cash, relying solely on debit cards for purchases. The campaign is part of a long term trend away from cash and toward debit payments in many supermakets and other businesses around the country.
NORWAY - Late last week Trond Bentestuen, a senior executive at Norway's largest bank, complained to the VG Newspaper that the Norwegian central bank "can only account for 40 percent" of the Norwegian kroner in circulation, meaning "that 60 percent of money usage is outside of any control." There's only one conclusion, according to Bentestuen: "There are so many dangers and disadvantages associated with cash, we have concluded that it should be phased out." Don't worry, though, the nation's Finance Ministry says it has "no plans to change the law in this area"...for now.
PHILIPPINES - In the Phillippines, the government has launched an "E-Peso" project with the explicit aim of "transforming communities into cashless societies." Touted as "a digital/virtual currency based on the Philippine Peso" its main selling point (according to the E-Peso's own website) is that: "Since E-Peso transactions are completely digital, everything will automatically be recorded onto the customer's account activity log." The initiative is funded by infamous CIA front USAID, which "has awarded a US$25-million, five-year project to a company called Chemonics to support the Philippine government in the promotion and adoption of e-payments in the Philippines."
SAUDI ARABIA - A MasterCard report on "The Cashless Journey" noted that by increasing the share of debit card transactions in the economy between 2006 and 2011, Saudi Arabia was moving at a faster than average pace toward a cashless society. Commenting on the report, Khalid Hariry of MasterCard noted: "Saudi Arabia is indeed moving at a better than average pace on its cashless journey, which has been significantly spurred along by government leadership. Regulation mandating wages assignment of employees' to bank accounts has vastly increased access to electronic payment methods for the Saudi population over a short period of time. These changes, coming alongside initiatives to spur acceptance, and a push to migrate payments made during the Hajj and Umrah pilgrimages, can be expected to shift substantial share of consumer payments away from cash in the coming years."
SPAIN - Citing budgetary austerity and the need to clamp down on tax fraud the Spanish government banned cash payments of more than 2,500 euros in 2012.
SWEDEN - Last year Stockholm's KTH Royal Institute of Technology released a report stating that the country is on track to completely eliminating cash transactions in the foreseeable future. Noting that there are now only 80 billion Swedish crowns in circulation in the economy (down from 106 just six years ago), the report highlights how digital person-to-person payment technology "Swish" (developed in collaboration with Danish banks) is already transforming the country's banking sector, where there are now entire banks that do not accept cash. Meanwhile, the Swedish public is being urged to stop using cash by no less a cultural icon than ABBA's Björn Ulveaus, who brags that the ABBA museum is now a cashless institution.
URUGUAY - Under the "Financial Inclusion Law" which took effect in May 2015 the Uruguayan government has banned all cash payments over $5,000, thus requiring all property and vehicle purchases to go through the banking system. This is part of a wave of such legislation throughout Latin America hailed as a way of "giving the people what they need" (i.e. access to banking) even when (as the very same report notes) "those on the edges of the financial system are distrustful of banks" especially in Uruguay.
UK - In 2014 cashless payments surpassed cash payments for the first time in the UK, with research (from cashless payment provider Kalixo Pro) suggesting that the average Brit only carries £17.79 in cash at any time and 1 in 4 will walk away if a business doesn't accept card payment. London buses went cashless in 2014 and just last year the Bank of England's chief economist made the case for negative interest rates and abolishing cash.
Filed in: Articles
Tagged with: cashless society • open source