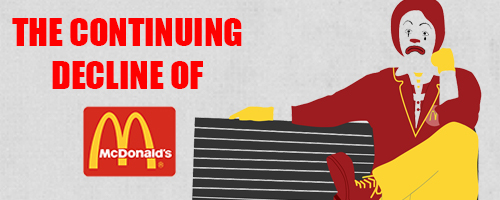 by James Corbett
TheInternationalForecaster.com
January 10, 2017
Long-time Corbett Reporteers might recall my 2015 video, "Celebrate! McDonald's is Dying!" where I detailed the many, many woes the fast "food" giant was dealing with at the time, including:
Since then, McCancer's has been undergoing a sweeping "restructuring" that has seen many layers of lipstick slapped on their factory-farmed pig. This restructuring includes not only cosmetic changes ("All-day breakfasts and new value menus for everyone!") but behind-the-scenes efforts to trim $500 million from the company's operating expenses, including buyouts and layoffs at company headquarters and the re-franchising of 4,000 corporate "restaurants."
The global giant's influential PR machine has used sleight-of-hand and other tricks to make this restructuring look like a smash success. They used their cheerleaders at the Wall Street Journal to hype "stronger-than-expected" profit and sales figures and their boosters at US News & World Report to hype some highly-selective earnings comparisons suggesting that this "turnaround" is, to use the WSJ's phrase, "sustainable."
But one doesn't have to scratch too hard to reveal the rusty reality beneath this PR paint job.


McPinkslime's might have "beat expectations" for sales and profits, but beating diminished expectations is hardly a sign of booming business. Just look at the nuts and bolts of the Q3 2016 earnings report: Year-on-year revenue is down 2.9% and net income is down 2.6%. And keep in mind, those numbers are in comparison to the already-terrible 2015 figures.
And that "re-franchising" operation? It cost $130 million in pre-tax charges.
But don't worry, everyone, they "beat expectations!" Pay no attention to the hemorrhaging corporation behind the curtain!
And now the latest sign of McDonteat's global retreat (via Corbett Report member "BuddhaForce"): "McDonald's gives up control of its China business in $2 billion deal."
The story is fascinating enough in its own right, what with McDonteats throwing in the corporate towel on the largest and fastest-growing consumer market in the world. But the devil is, as always, in the details. Who is purchasing the majority stake in the company's mainland operations? None other than The Carlyle Group and CITIC Group.
The Carlyle Group's name will likely ring a bell as one of the largest swamp pits "private equity firms" in the world, and one with its fingers in many a pie, including, of course, 9/11.
CITIC Group, meanwhile, will be familiar to The Corbett Report faithful as a key player in "China and the New World Order," a Chinese state-owned investment company that helped serve as the Rockefeller-Kissinger nexus between the Deng Xiaoping-era "capitalist roaders" and their western finance oligarch recolonizers.
That these two cesspools are converging on the giant turd of American fast food is fitting enough. The McDonaldization of China is proceeding apace, and the usual crew are there to profit from it.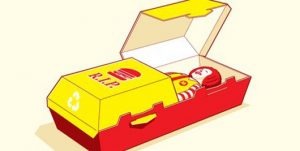 But as to what this story says about the continuing decline of the once-mighty golden arches, there are two main takeaways to the story, one depressing and one positive.
On the depressing front, there is a simple reason for the across-the-board slowdown in fast food sales in recent years (despite the predictable attempts to overcomplicate the problem in clickbait-y listicle format). For once, the Wall Street Journal gets it right: It's the economy, stupid. What greater rebuke to the easily-disprovable economic "recovery" nonsense of the Obama years could be possible than pointing out the simple fact that people are too worried about their economic future to splurge on a $5 value meal?
But on a positive note, we can take McFatfood's woes as a sign that, try as they might with their considerable propaganda resources, the corporate chieftains can't put their egg McMuffin back together again. People are fed up with fast food. And although some, concerned with cost, are turning to eating at home as the cheaper option, others are more concerned with what's in their food, where it's sourced from, how it's being prepared and who is being paid for it. Who wants instant, nutritionless, food-like substitute rolled up in plastic and slapped down on a tray by surly, overworked servers (or, increasingly, robots) anyway?
For those interested in how they can take part in the real food revolution that will render the McFastfood economy obsolete, may I humbly offer this podcast on guerrilla gardening? Bon appétit!