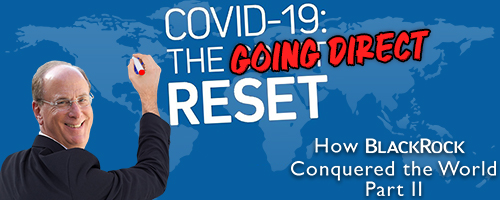 If you read Part 1 of the How BlackRock Conquered the World series, you will know how BlackRock went from an obscure investment firm in the 1980s to one of the most powerful asset managers in the world after the Global Financial Crisis of 2007—2008. You will also know how BlackRock's CEO, Larry Fink, wasted no time in using the company's immense riches—with over $10 trillion under management and a position as one of the top three institutional investors in seemingly every Fortune 500 company—to gain political power.
But Fink and his lackeys were not interested in accruing power merely for its own sake. No, the point of getting power is to use it. So the question is: how did they use this newly acquired political power?
Well, did you hear about a little thing called the COVID-19 pandemic? If you're reading The Corbett Report, then you likely already know that the events of the last three years had nothing whatsoever to do with a virus. But if the pandemic was actually a scamdemic and it was never really about a viral contagion, then what was it about?
There are, of course, many answers to that question. The scamdemic served a number of agendas and the various players on the grand chessboard each had their own incentives for playing along with it. But one of the most important—not to mention one of the most overlooked—answers is that the scamdemic was, at base, a financial coup d'état. And that entire coup d'état was engineered by (you guessed it) BlackRock.
In Part 1 of this series, A Brief History of Blackrock, I described how BlackRock came to be the economic and political juggernaut it is today.
This week, I will explain how BlackRock's Going Direct reset paved the way for the massive economic and monetary transition that we have just lived through under the cover of the scamdemic.
And in Part 3, I will examine the Aladdin system and the other creepy ways BlackRock is planning to use its power to mould society in its own interest.
Want to know the details? Of course you do. Let's dive in.
To access this week's edition of The Corbett Report Subscriber (and to see this month's Subscriber Exclusive Video), please sign in and continue reading below.
Not a Corbett Report member yet? Sign up to BECOME A MEMBER of the website and read the full newsletter or CLICK HERE to access the editorial for free.
This content is restricted to site members. If you are an existing user, please log in. New users may register here.
Filed in: Newsletter
Tagged with: central banking • economics • finance • monetary reform