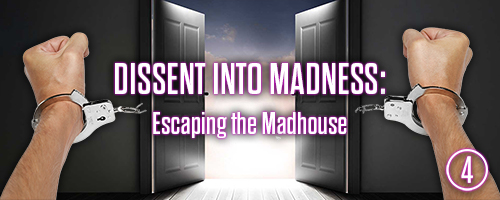 In the "Dissent Into Madness" series, we have been exploring the nexus of psychology and politics.
In Part 1 of this series, "The Weaponization of Psychology," I detailed the process by which the psychiatric profession has been turned into an instrument for repressing and marginalizing political dissidents.
In Part 2, "Crazy Conspiracy Theorists," I documented how this weaponized psychology has been wielded against conspiracy theorists, pathologizing those who seek to point out the obvious truths about world events such as 9/11 and the scamdemic.
In Part 3, "Projections of the Psychopaths," I documented the psychopathology of those in positions of political power and noted how society itself is being warped to reflect those psychopaths' own twisted psyche.
Finally, in this week's conclusion to the series, I will tackle the most important question of all: how do we escape the madhouse constructed by the political psychopaths?
To access this week's edition of The Corbett Report Subscriber, please sign in and continue reading below.
Not a Corbett Report member yet? Sign up to BECOME A MEMBER of the website and read the full newsletter or CLICK HERE to access the editorial for free.
This content is restricted to site members. If you are an existing user, please log in. New users may register here.
Filed in: Newsletter
Tagged with: psychology • psychopathy