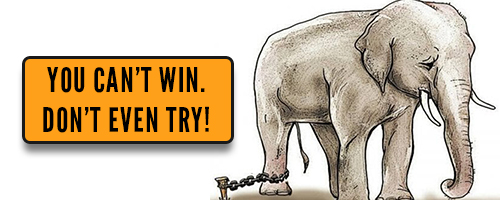 by James Corbett
corbettreport.com
March 27, 2021
Imagine you find a prisoner in an unlocked jail cell. Confused, you ask him why he's sitting there when the door to his cell isn't even locked.
"Oh, it's unlocked? I didn't check."
You assure him it's unlocked and ask again why he doesn't leave.
"Why bother? They'll probably catch me before I get out."
You look around in confusion. You explain to him that this isn't even a real jail. That he's simply been told to wear an orange jumpsuit and stay in an unlocked room, but he doesn't have to comply. All he has to do is leave.
"Even if I get away, they'll find me and bring me back here. Might as well just stay put."
Do you think this story is ridiculous? Of course it is. But the situation it describes is all too true. In fact, researchers have known for half a century the mechanism by which people can be made to effectively lock themselves up inside their own mental prison . . . and it didn't take long for the intelligence agencies to put that research to use.
Today, let's explore the startling true story of how and why you have been conditioned into a (false) sense of helplessness, and—more important by far—what you can do to break that conditioning.
Do you find yourself utterly demoralized by the world of COVID-1984? Do you feel that you have no control over your life? Do you feel like you're a prisoner in a jail cell? . . . Have you ever tried checking to see if the door was unlocked? Don't miss this week's edition of The Corbett Report Subscriber where James explores the history of learned helplessness and what we can do to break out of the mental traps that have been set for us.
To access the full newsletter and to support this website, please become a member today.
For free access to this editorial, please CLICK HERE.
This content is restricted to site members. If you are an existing user, please log in. New users may register here.
Filed in: Newsletter
Tagged with: psychology • solutions