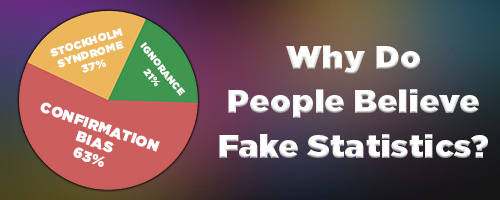 I've got a shocking piece of news for you today: Sometimes, statistics are inaccurate.
I know, I know. I've probably just shattered your world. "How can this be?" you're asking yourself.
But wait, it gets worse!
Not only are statistics occasionally inaccurate, sometimes they're presented in misleading ways!
"Say it ain't so!" I hear you screeching.
But prepare yourself; I've saved the worst for last.
Sometimes, statistics are made up.
"I can't believe it!" you say, falling on your knees as your world collapses around you.
OK, OK, enough joking around. I know you know all of this already. But today I want to talk about an interesting phenomenon related to this topic. You see, the very people who are perfectly capable of pointing out the statistical chicanery of the globalist supervillains and their MSM cronies are often the same people who fall for the statistical chicanery of people that they like.
Why is this? Let's find out.
Join James for a deeper-than-expected deep dive into the psychosocial meaning of statistical trickery in this week's edition of The Corbett Report Subscriber. Also, check the full newsletter for a discount code for 25% off any Corbett Report DVD or even 25% off the brand new Data Archive USB.
Sign up to become a member of the website and read the full newsletter or CLICK HERE to access the editorial for free.
This content is restricted to site members. If you are an existing user, please log in. New users may register here.
Filed in: Newsletter
Tagged with: money • psychology