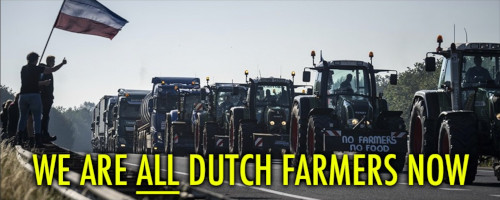 For weeks now, farmers in the Netherlands have been engaging in fierce protests over their government's plan to halve the country's nitrogen and ammonia pollution by 2030. It is estimated that this plan—which will mandate emissions cuts of 95% in some provinces—will require a 30% reduction in livestock and will drive many of the nation's farmers out of business.
The protests have been remarkably heated, as tens of thousands take to the streets to block the country's highways, torch bales of hay and spread manure around politicians' homes. In one incident, Dutch police actually fired live rounds on one of the protesters as he attempted to breach the police line with his tractor.
Yes, the scenes coming out of the usually quiet Dutch countryside are shocking. But they should not be. They are just the early stages of a great worldwide battle that is shaping up between the free people of the world and the technocrats, who are starting to clamp down on them in the name of the 2030 Agenda for Sustainable Enslavement.
Make no mistake: Whoever you are, wherever you live, whatever you do, these power-hungry elitists will be coming after your livelihood next. We are all Dutch farmers now.
This is the story of how we got here, where we're going and what it means.
Do you want to know more about the Dutch farmers' protests and how they tie in to the greater neofeudal agenda? Would you like access to that mythical "subscriber discount code" for the new online media course that James keeps talking about? Then sign in and enjoy this week's edition of The Corbett Report Subscriber.
Not a Corbett Report member yet? Sign up to BECOME A MEMBER of the website and read the full newsletter or CLICK HERE to access the editorial for free.
This content is restricted to site members. If you are an existing user, please log in. New users may register here.
Filed in: Newsletter
Tagged with: agenda 2030 • carbon tax • farming • protests