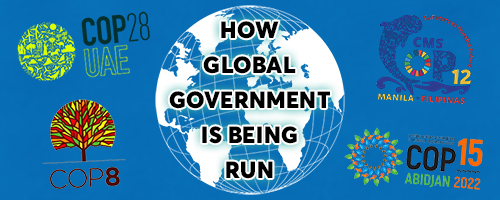 Newsflash: contrary to the worries of conspiracy realists, global government is NOT a far-off, distant threat waiting for us in some potential dystopian future.
No, it's not a future threat. The truth is that global government is already set up and functioning. Here. Now.
In fact, it's not even happening in secret. It's happening in the most visible way possible: a party.
Oops! Did I say "party"? I meant "Conference of the Parties," of course, aka the mechanism by which individual nation-states have been willingly ceding their sovereignty to the globalist technocrats for decades now.
Never heard of "Conference of the Parties," you protest? Of course you have. I talk about the COP of the United Nations Framework Convention on Climate Change (UNFCCC) pretty much every year. In fact, I've been covering it since at least COP 15 in Copenhagen in 2009. Lest we forget, 2009 was the year EU President (and Bilderberg lackey) Herman von Rompuy declared to be "the first year of global government," specifically citing the COP in Copenhagen as "another step towards the global management of our planet."
Another step, indeed.
Fast forward to 2023. The globalists are fueling up their private jets and chauffered limosines for another wine-and-dine fest—this time COP 28 in Dubai. Yes, it's just a matter of weeks until we get to bear witness to the annual ritual of these would-be global rulers jetting in to lecture us peons about how we're not doing enough to save the planet.
But do you know what a COP really is? And did you know that the UNFCCC's COP is not the only COP being run by the de facto global government? And did you know that the real point of the World Health Organization's (WHO) so-called "pandemic treaty" is to establish yet another COP chamber in this increasingly bloated shadow government?
Get in, buckle up and hold on. You're in for one of the most important lessons of your life.
To access this week's edition of The Corbett Report Subscriber, please sign in and continue reading below.
Not a Corbett Report member yet? Sign up to BECOME A MEMBER of the website and read the full newsletter or CLICK HERE to access the editorial for free.
This content is restricted to site members. If you are an existing user, please log in. New users may register here.
Filed in: Newsletter
Tagged with: un • who