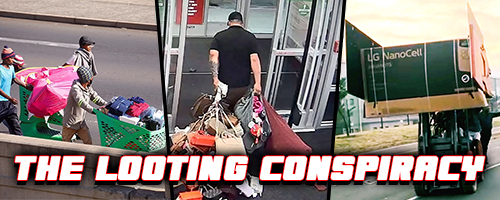 If you've been following the news, you'll know that shoplifting and looting have been on the rise across the US in recent months, with retailers from San Francisco to Portland to Washington, D.C., forced to close up shop in the face of mounting losses from the spate of increasingly brazen burglaries.
And you'll probably also be aware that the phenomenon is not confined to the US, with businesses in Canada and the UK and France and Australia and elsewhere similarly reporting an increase in robberies and theft since the scamdemic.
And you'll doubtless have heard the various explanations for this phenomenon doled out by the faithful media mouthpieces of the controlled two-party paradigm:
It's soaring inflation and the cost of living crisis that's causing desperate people to turn to crime!
No, it's the godless Commifornia politicians and the "woke" defund-the-police mob who are to blame!
No, it's the scamdemic lockdowns that caused people to forget basic civility!
No, it's the illegal immigrants!
No, it's an organized conspiracy of retail workers!
etc.
Of course, there are grains of truth in all of these explanations, but none of them get to the real heart of the matter. So, what's really behind this explosion in retail theft? And, more to the point, what do the powers-that-shouldn't-be have in store as their "solution" to this (generated) problem? The answers may surprise you.
To access this week's edition of The Corbett Report Subscriber, please sign in and continue reading below.
Not a Corbett Report member yet? Sign up to BECOME A MEMBER of the website and read the full newsletter or CLICK HERE to access the editorial for free.
This content is restricted to site members. If you are an existing user, please log in. New users may register here.
Filed in: Newsletter
Tagged with: cashless society