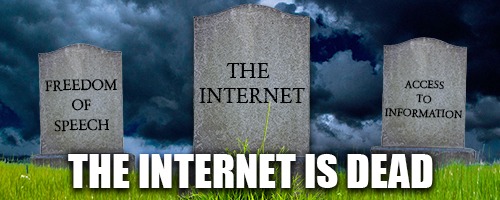 Have you heard the latest?
Canadians are losing their access to online news thanks to a new bill that would make tech companies liable for so much as linking to news stories.
French President Macron is mulling a social media shutdown in the name of quelling France's social unrest.
Meta's new "Twitter killer" Threads app is (surprise, surprise!) censoring from day one.
And the UK government is considering a proposal to give their NSA equivalent, the GCHQ, unprecedented, sweeping new powers to monitor internet logs in real-time.
Are you noticing a pattern?
Yes, the Internet—the "Information Superhighway" version of the "Internet" that was sold as a digital panacea to a credulous public in the 1990s, that is—is now officially dead.
So what does this mean? And where do we go from here? Today, I'll get to the bottom of the dead internet theory and what conspiracy realists should make of this news.
To access this week's edition of The Corbett Report Subscriber, please sign in and continue reading below.
Not a Corbett Report member yet? Sign up to BECOME A MEMBER of the website and read the full newsletter or CLICK HERE to access the editorial for free.
This content is restricted to site members. If you are an existing user, please log in. New users may register here.
Filed in: Newsletter
Tagged with: internet