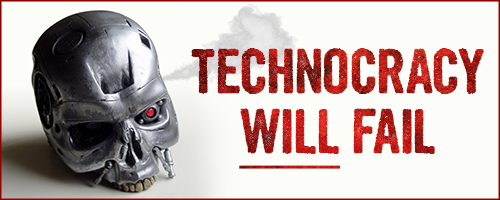 It's almost impossible to browse the news anymore without giving up all hope for the future of humanity. We're all going to be fed into the maw of the technocratic slave system and have our fingers broken by our new chess-playing robot overlords and there's nothing we can do about it.
I guess we better just abandon all hope now, right?
Not so fast.
Here's a great big white pill for you: the technocratic system of tyranny is going to fail. This is not wishful thinking; it's a cold statement of fact. Technocracy, in all its facets—from the UN's 2030 Agenda to the brain chips and AI godheads of the transhumanists to the CBDC social credit surveillance state—is anti-human. It goes against nature itself. It cannot work in the long run, and it is destined to fail.
Now, this doesn't mean that it's a cake walk from here on out. It doesn't mean we can just go back to sleep and wake up in a gumdrop house on lollipop lane.
But it does mean that we can and will make it through these trying times. And the quicker that we wake up and realize the power to change the world for the better is in our hands—not in the hands of the would-be world controllers—the sooner this nightmare will end.
So, do you want to know more? Here goes . . .
Want to know why technocracy will fail and what this failure will mean for the future of humanity? Then read this week's edition of The Corbett Report Subscriber.
Not a Corbett Report member yet? Sign up to BECOME A MEMBER of the website and read the full newsletter or CLICK HERE to access the editorial for free.
This content is restricted to site members. If you are an existing user, please log in. New users may register here.
Filed in: Newsletter
Tagged with: solutions • technocracy