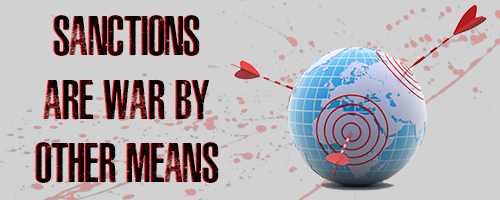 Were you aware that nearly one-third of the planet is under economic sanctions of one sort or another?
No? Why not? Even those who don't pay much attention to the nexus between geopolitics and economics are likely to find that to be a shocking statistic. For those who do pay attention to that nexus it's even more shocking because they know that economic sanctions are not just some abstract economic concept. Quite the contrary.
Imposing sanctions on a country is a way of waging war against that country. It's not just that economic embargoes can cripple nations' economies nor that they tend to disproportionately affect innocent civilians. No, the reality is even more stark than that: sanctions kill.
Don't believe me? Let's look at some of the examples of how sanctions have been used throughout history as a tool of warfare.
To access this week's edition of The Corbett Report Subscriber, please sign in and continue reading below.
Not a Corbett Report member yet? Sign up to BECOME A MEMBER of the website and read the full newsletter or CLICK HERE to access the editorial for free.
This content is restricted to site members. If you are an existing user, please log in. New users may register here.
Filed in: Newsletter