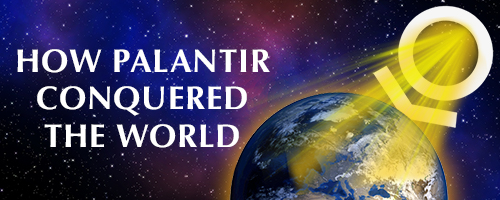 Imagine a company that knows everything about everyone. A company that is equally at ease helping banks identify fraud as it is helping intelligence agencies track down enemies of the state. A company that can combine pictures of you with your cell phone location data, emails you've written, your health records and credit card purchases and thousands of other pieces of electronic data to paint an intimate portrait of your life—a portrait that any would-be investigator can pull up with a few keystrokes. A company that can target you anywhere in the world at any time.
Now stop imagining that company, because it already exists. It's called Palantir Technologies.
Founded by billionaire PayPal co-founder and Facebook early investor Peter Thiel, this plucky little Silicon Valley startup has long been the darling of the US military and the intelligence community, and it's increasingly the darling of the corporate world. And—given Palantir's ability to surveil, track and, ultimately, control every aspect of your daily life—it isn't hard to see why.
Even so, few in the general public have ever heard of it, and those who have know little beyond the fact that Palantir is a bad company that does creepy things.
But this is The Corbett Report. We can do better than that.
Today, let's explore the roots of this threat to humanity, expose the extent to which it has already laid your life bare to the all-seeing eye of the would-be world controllers, and peer into the magical seeing stone to see what the future holds for Palantir Technologies.
To access this week's edition of The Corbett Report Subscriber, please sign in and continue reading below.
Not a Corbett Report member yet? Sign up to BECOME A MEMBER of the website and read the full newsletter or CLICK HERE to access the editorial for free.
This content is restricted to site members. If you are an existing user, please log in. New users may register here.
Filed in: Newsletter
Tagged with: darpa • panopticon • spying