As I mentioned last week, I spent some of my time in the UK last month dipping into the local dinosaur media to see what kind of indoctrination the British are being subjected to these days. Who knows? Maybe I'd even be pleasantly surprised by some thought-provoking or counter-establishment content in the local paper.
Or not.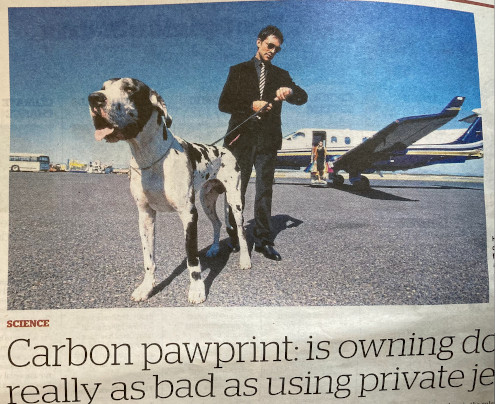 Ugh.
Sorry for the poor cropping on this photo (I was balancing the paper on my knee on a bumpy train ride when I snapped the pic), but yes, the full headline does indeed read "is owning dogs really as bad as using private jets?"
At first glance, this story seems utterly absurd, a preposterous joke slipped into the daily news by an editor with a penchant for the bizarre. At second glance, it seems like it must be some kind of tongue-in-cheek recognition of the stupidity of the green hysteria.
But, after reading the article for yourself, you will see that the article and the author are taking this concept deadly seriously. In fact, it is the logical next step in the escalation ladder leading us toward outright carbon eugenics.
My long-term viewers will already know what that means, but for anyone who doesn't understand the importance of this story (and the many, many more like it that we will doubtless be subjected to in the near future), allow me to explain. . . .
To access this week's edition of The Corbett Report Subscriber, please sign in and continue reading below.
Not a Corbett Report member yet? Sign up to BECOME A MEMBER of the website and read the full newsletter or CLICK HERE to access the editorial for free.
This content is restricted to site members. If you are an existing user, please log in. New users may register here.
Filed in: Newsletter
Tagged with: carbon eugenics