Author Archive for Corbett

No apostrophes? Misplaced commas? Starting a sentence with a conjunction? Whatever shall we do?! Join James in today's Thought for the Day as he ponders the miracle of communication, explores the anarchy of language, and celebrates the beauty of spontaneous order.

This week on the New World Next Week: the 9/11 legacy continues to reverberate as the national emergency renewal ritual repeats; NATO's false flag shenanigans are part of the latest Gladio trial in Italy; and the New Mexico gun grab psyop can be read in many ways.

From ULEZ camera sabotage to culture jamming in the supermarkets to QR code tinkering, there are no shortage of wrenches that can be thrown in the gears of the technocratic enslavement grid. So, what methods of monkeywrenching the New World Order will work for your own purposes? Let's put on our thinking caps and explore the possibilities in this mischievous edition of #SolutionsWatch.

via TheLastAmericanVagabond.com: Joining me today is James Corbett, founder of The Corbett Report, and video editor extraordinaire Broc West, here for a 9/11 anniversary watch-along and Q&A of their excellent documentary titled: COVID-911: From Homeland Security to Biosecurity. Similar to our watch-along/Q&A of The Secret History of Al Qaeda documentary, we will gather beforehand for a quick introduction and then watch the documentary, only pausing briefly for comments, context, and new relevant developments, and ending with a Q&A portion where we will answer questions from the audience.
James Corbett interviews Dr. Meryl Nass on her acclaimed new connect-the-dots article exposing how the WHO's proposed treaty will increase man-made pandemics. Learn how cataclysmic lab escapes become increasingly inevitable in a science fiction futurescape where 94+ countries are "incentivized and encouraged" to perform gain-of-function experiments and to share their weaponized genomic sequences with member states through a vast new "biodefense" surveillance network.
via We Talk About Dead People Podcast: We are joined by James Corbett of The Corbett Report for a fast-paced power hour of facts, research, and explosive discussion on everything from 9/11 to television-based mind control (no joke).

Shortly before he passed away earlier this year, Dr. Graeme MacQueen sat down for one last project: a documentary film summarizing his life, his work, his activism for peace and his insights into the events of 9/11. That documentary, Peace, War and 9/11, is about to be premiered online and in real life. Joining us to discuss the documentary, how it came about and how people can watch it is producer/director Ted Walter of the International Center for 9/11 Justice.

Etienne de la Boetie², author of Government — The Biggest Scam in History, and Kenny Palurintano of the White Rose join us to discuss their new project: White Rose Mucho Grande! Featuring highly thought-provoking visualizations of such convoluted topics of media ownership, seed company monopolization and elitist CFR/Bilderberg/Trilateral influence over government, these downloadable images promises to provide activists with the visual tool to spark conversations that will get people thinking.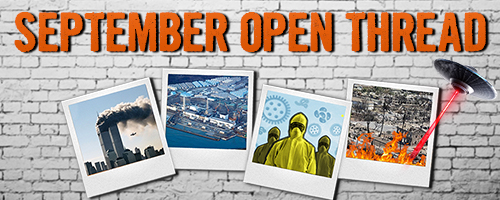 Corbett Report members are invited to log in and engage in discussion in this month's open thread.