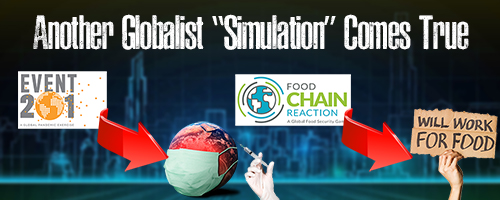 You know how Event 201 was just the most high-profile in a string of "simulations" and "scenarios" (including Clade X, Crimson Contagion, Lock Step and SPARS) that just happened to predictively program the fear of a global coronavirus pandemic into the minds of the global political and managerial class?
And you know how those "exercises" (like the multiple war games that just happened to coincide with the catastrophic, catalyzing events of 9/11) not only anticipated our current predicament, but, more importantly, laid the groundwork for the current global governmental response to the scamdemic—the creation of vaccine passports, the erection of the biosecurity grid, the crackdown on the "infodemic" of online "disinformation," etc.?
Now, what if I were to tell you that there have been a number of simulations that have taken place in recent years that have similarly spelled out the globalists' game plan for the post-scamdemic world in black-and-white?
Well, brace yourself. The global planners have been crafting simulations, war games and exercises to simulate our responses to the crises they are intending to create in the coming decade. And, as serious as all of the above-named simulations were, these ones foretell an even darker vision for humanity in the years to come. . . .
Have you heard about the insider/supergopher "simulation" that foresaw the food crisis that we're plunging into . . . and the global carbon tax that helped to "solve" the problem? Read all about it in this week's edition of The Corbett Report Subscriber. Also, Corbett Report members can log in here for discounts on my upcoming course at Renegade University and a coupon code for 25% off Corbett Report DVDs at the new New World Next Week shop.
To access the full newsletter and to support this website, please become a member today.
For free access to this editorial, please CLICK HERE.
This content is restricted to site members. If you are an existing user, please log in. New users may register here.
Filed in: Newsletter
Tagged with: economy • food • predictions • predictive programming